After occasionally running into them around town, I really started to get to know Jessie and Deanna through our mutual interest in motorcycles. My boyfriend, Dan, and Jessie met through the Cast & Salvage guys a few years back and Deanna recently got a bike of her own. When I met them, they were living together in an apartment complex at Ridge Ave and Spring Garden St in Philly, an area that doesn't really feel like a neighborhood because its in an annex where a few different neighborhoods collide. From the moment I met them, they both talked about wanting a different place with more space and it seemed only natural to me that they were looking for more community too.
Before I shot their place, we met at the La Colombe in their neighborhood, Fishtown's newest addition to Frankford Ave. Jessie and a friend also met us there and Dan trickled in about an hour later. As we were leaving, we ran into at least two more people that we know. By the looks of it, they were already more at home and happier being in the mix of things. And when we got to their place, I saw Deanna practically skip out of the car in excitement to go open her door.
Their place is a little slice of fresh air. Philly doesn't really scream loft the way that New York does, but if there's a loft worth seeing, it's theirs. And it's right where you would least expect it-- in an old church on a quiet street in the heart of Fishtown.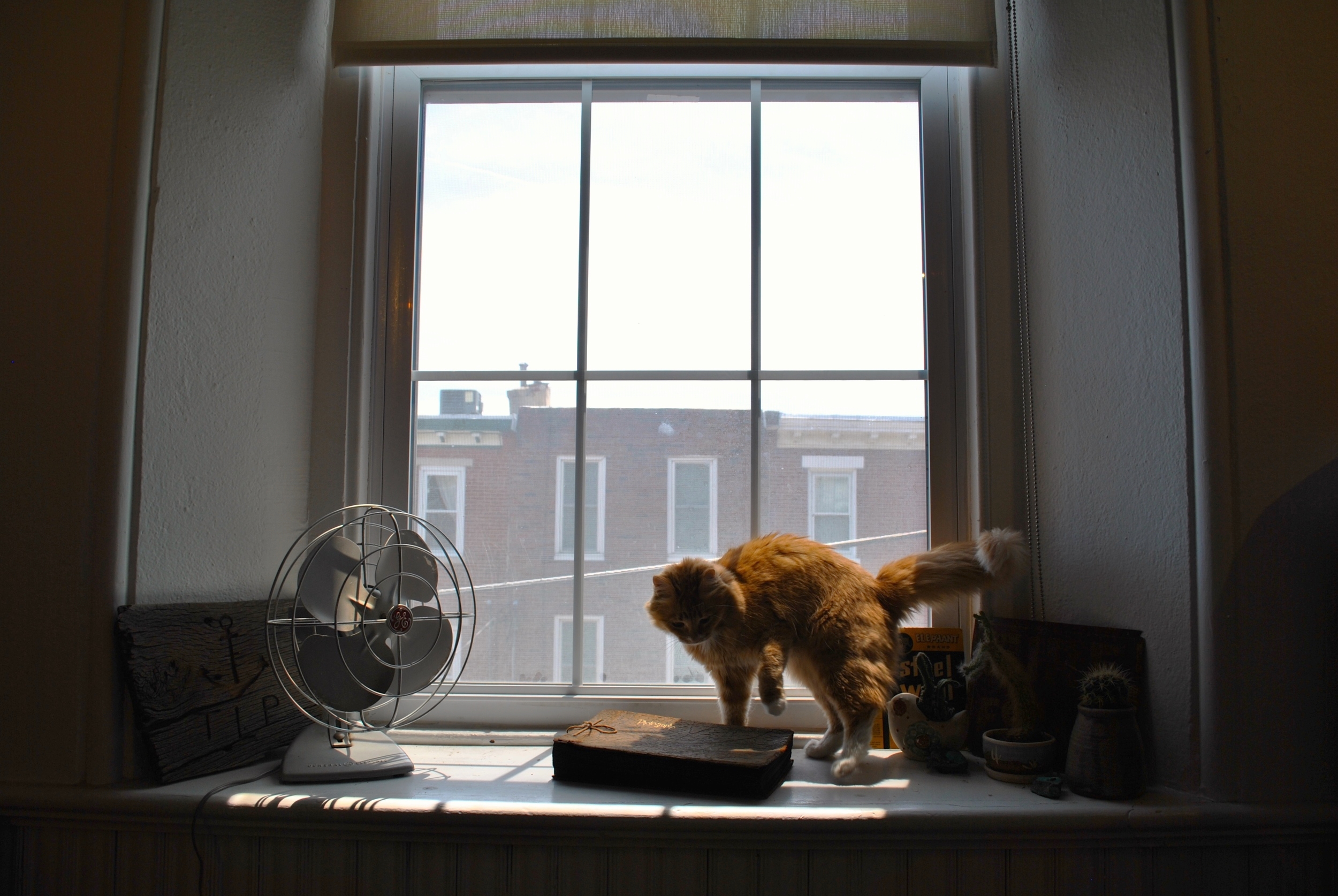 Q: You and Jessie recently moved to Fishtown from the upper downtown area. What did you look for when hunting for your new home and why?
Space. We were living in a "garden apartment" which is a fancy name for a basement. It had huge windows, which helped open it up, but it was cramped and had little storage. We wanted something open, large, and with lots of character. Basically, something that would echo our personal styles. A functioning kitchen was also important, because I love to cook. We got lucky and knew Dom, who owns the place, and after a quick tour, we knew it was for us.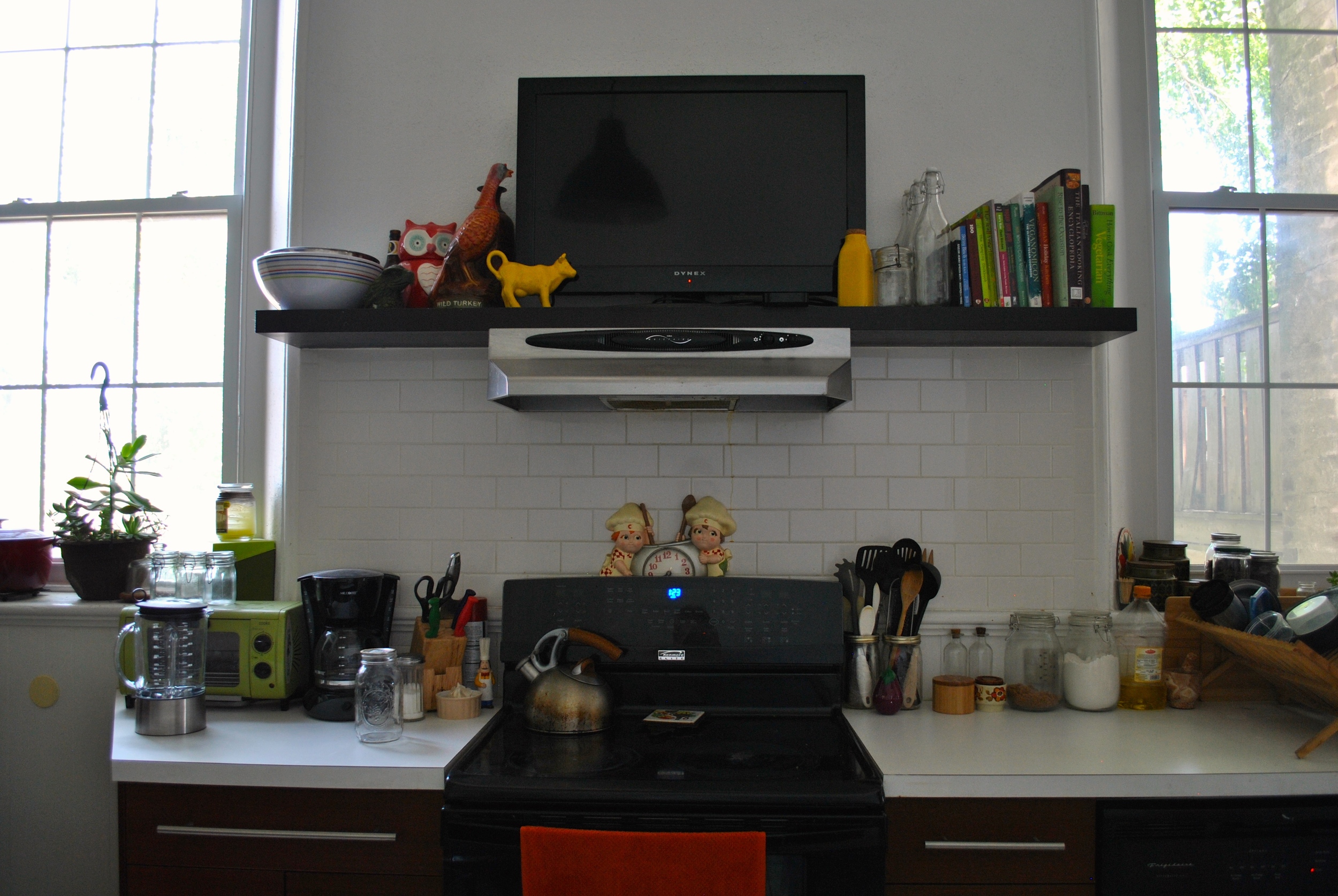 Q: Your new digs are in an old church. Tell me more about that and the owner of the building.
We don't know a ton about it, but several locals have told us they used to attend services there back in the day. Amazingly enough, the building as it stands today is pretty similar to the way it was built (at least from the outside). Dom, a local photographer, got the place about 15 years ago, gutted it, and made the main building into his home where he lives with his family. The stained glass is all original, and he's done an amazing job preserving the art-deco details in the design. We live in the converted rectory, which is still connected to the main building on the first floor.
Q: What is your favorite part of your new space? What was the biggest challenge/surprise?
The windows. I've never lived in a place with so much light. They have screens, but we hardly use them. They're a statement in themselves. The biggest challenge for us will always be storage. We just have too much stuff. The place has no overhead storage in the kitchen and only one closet, but we've made due utilizing other pieces of furniture and significantly downsizing.
Q: As you guys continue to get settled in, what are some of the home projects you are looking to take on?
We've been in the space for about 7 months and we're already itching to change it up. The great thing about living in a studio-esque environment is that there aren't any designated rooms, and we can set it up however we want, and change it again if we get tired of it. Our next project is to rearrange the whole living space. We're saving up for a new spindle bed frame, and we have a ton of reclaimed wood from the old church they just demolished on Belgrade. The wood is going to eventually be pipe and flange shelving next to the safe, and the bed is going to be caddy cornered where the work bench now is. Throw in some vintage rugs and a ton more plants, and we'll be in a good spot until the next idea pops up.
Q: You both seem like you are constantly collecting and creating new things. How do you keep your space so interesting and ornate, but clutter free?
An advantage of having such an open space is that it never feels too crowded. We've focused on finding some funky storage solutions, like the metal bookcase we keep our motorcycle ephemera in. It gives us a place to store and display our knick-knacks without crowding shelves and filling boxes. That, and I'm just the biggest neat freak you'll ever meet.
Q: If you could build your dream home, what would it absolutely include and why?
A garage for Jessie's growing motorcycle collection and a sun room so I can exercise my green thumb. An outdoor space of our own would be cool too, because after 3 years together and 3 different apartments, we've never had one.
What's what: Couch - Craigslist score. Coffee Table - passed down from Jessie's grandmother. Peacock Chair - Phantastic Phinds Furniture Consignment. Desk - hand-built by Deanna. Entry Table - the pieces were purchased from @oldschoolfinds on Instagram, assembled by Jessie. Safe and kitchen pew knook - original to the space. Bed - Ikea. 48 Star Flag - flea market find.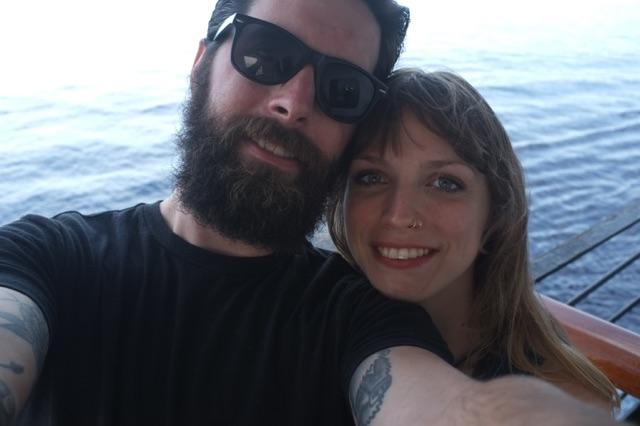 Deanna works as the lead on Social Media Strategy for Sailor Jerry Rum. Jessie is a designer and artist as a part of True Hand Society, a private design & tattoo studio. Thurston & Shermie are their resident fluffballs.
Follow Jessie and Deanna on Instagram: @deannarama @jessiejaytlp