I met Megan and Tommy for the first time through mutual friends at The Race of Gentleman earlier this year. When I saw photos of Megan's home pop up in my Instagram feed, I didn't just start following her because we had mutual friends. She has an eye for photographing just about anything - from landscapes to interiors, to all the little knick knacks she has found in between. So as soon as I got the blog up and running, I asked her to shoot her and Tommy's place.
I will say that I was a little nervous because I've never shot a home I haven't been to in the past. But, they did not disappoint! My favorite element of their place is the lighting and the contrast that it creates.
Q: You are originally from New Orleans, what brought you to Philly?
Megan: I moved to Philly to be with my boyfriend, Tommy. It was never a city I considered living in, but I'm glad I did it. Pennsylvania is awesome.

Q: When you were home-hunting, what did you and Tommy look for and why?
Megan: Initially, we just wanted a place of our own after living with his roommates for a while. I was definitely more picky about the house than he was. I've lived in so many places, and with each new apartment or house you tend to acquire more stipulations for the next. I won't budge on a yard, washer/dryer, hardwood floors, and bathtub.
Q: Now that you are all settled in, what do you love most about your home? What was your biggest challenge/surprise?
Megan: I don't have any particular favorite things about the house itself. I mean, I'm really glad that some of the original doors were kept, I like the banister, and the fact that the bathroom isn't too small. The folks that renovated the house did a lot of stuff that I'm not too crazy about. For example, they covered up the entire fireplace/chimney, the overhead lights aren't all lined up with the right architectural features of the room, the kitchen is awkwardly designed, etc. My favorite thing about our home is how we navigate the more troublesome aspects of it. The biggest challenge was deciding how to arrange the living room. There isn't a single good wall to put a couch against, which had a domino effect with the rest of our furniture. I think we did the best we could given the space.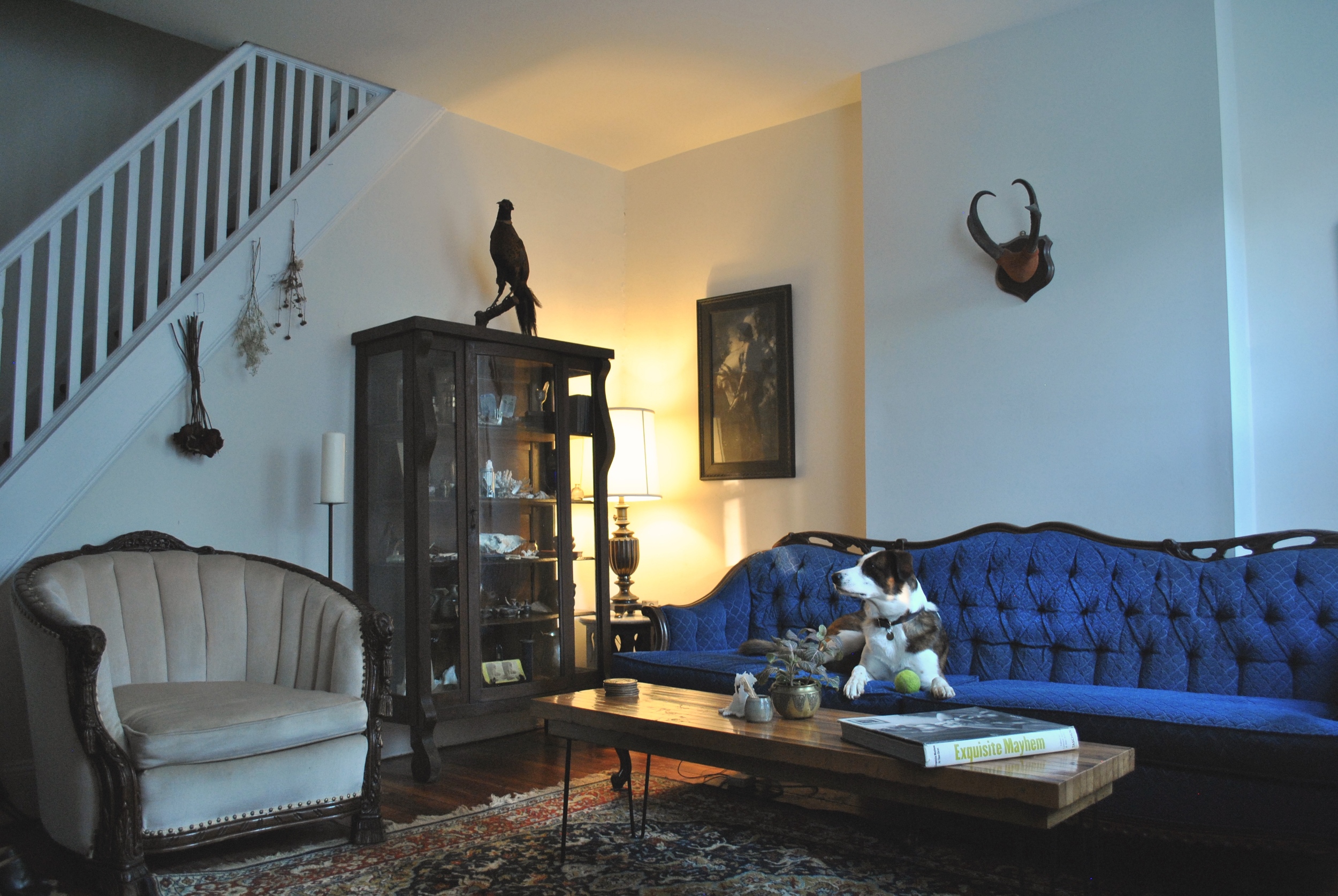 Q: You have so many trinkets, photos and mementos. Where did they all come from and what inspired you to collect them? Which piece is most special to you?
Megan: I've always had an affinity for collecting anything old and unusual, books, and things found in nature. A good deal of what I have came from searching thrift and antique stores, whether in Louisiana or just traveling. An even bigger portion of what I own has come from where I work, Jinxed. Prior to moving to Philly, I had a lot of stuff. I had a bunch of cool old books, photos, and ephemera. However, working at Jinxed definitely allowed me to obtain more of what I sought out because I'm immersed in it on a regular basis. It's also made me a much choosier person. You see the same stuff come in day after day and you start to realize that it's not as rare as you once thought it was. That's why my favorite things (I can't choose just one) are my photos and any hand-written notes and letters. They capture unique moments and emotions.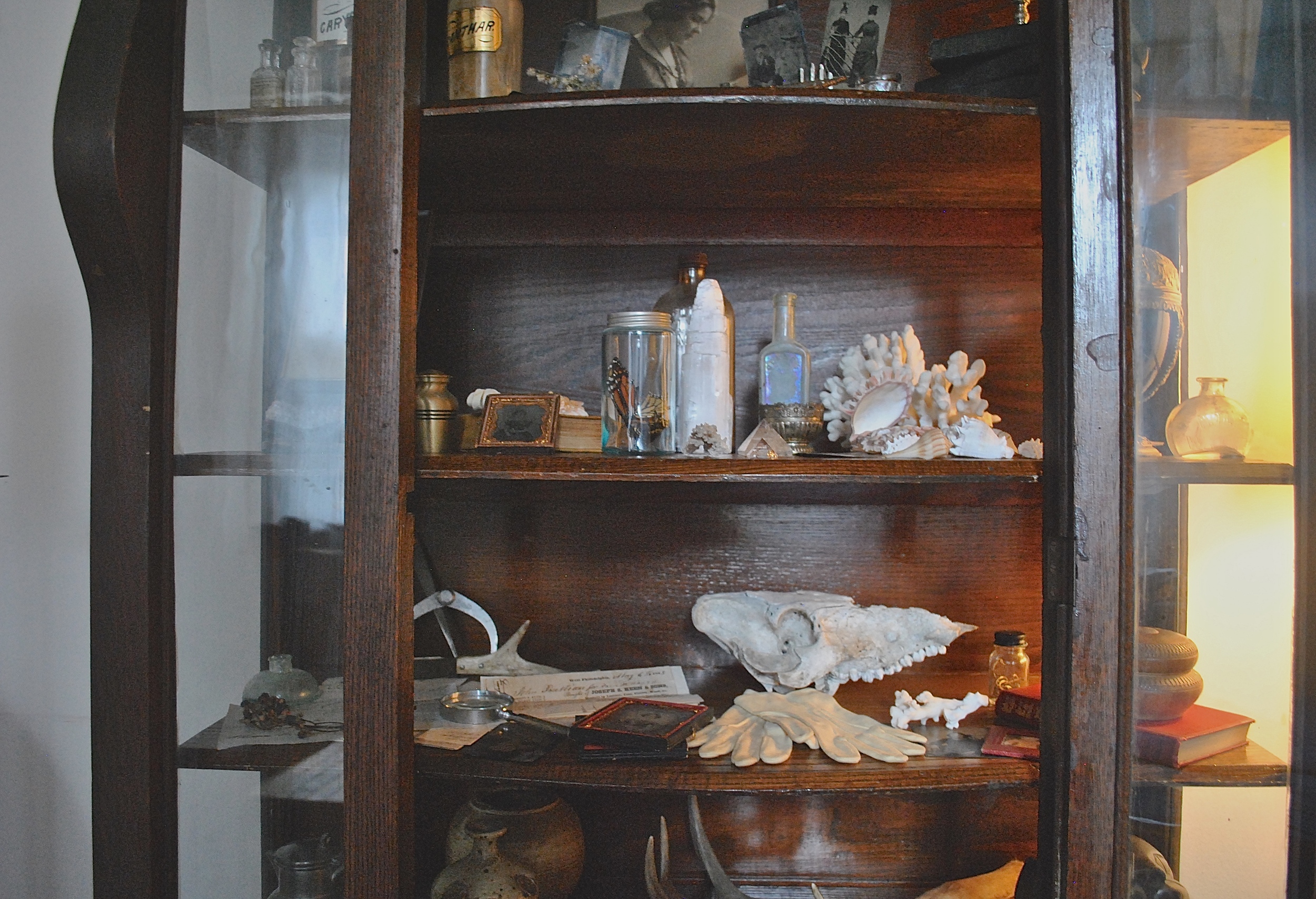 Q: If you guys decide to own one day, what would your dream home absolutely include and why?
Megan: A throne room? I don't know, it's tough! We would love to buy something soon. My dream home would absolutely have a grass yard (none of this concrete slab nonsense), a ton of original fixtures and details, high ceilings, a big kitchen, and a garage. I'm torn between a castle and a Victorian mansion, but either will do.
What's what: The shelf that my shoes are on is made from an old table with the legs taken off. I found the framed portrait of the woman (in the dining room) in a Catholic thrift store in Louisiana. They were hesitant to sell it to me because they felt it was inappropriate, but I convinced them to. I've seen the image before, but I have no idea who made it. The eerie framed photo of the old man (Uncle John) came from Jinxed and there is an accompanying photo of a church. In that one you can faintly see Uncle John standing in front of the church. I love those two photos so much. The portrait of a woman reading (in the curio cabinet) was also part of that set. They're three of my absolute favorites! My coffee table is special to me because my dad made it. Even though it doesn't perfectly go with the rest of our furniture, I'll always use it. It makes a great bench, too! Since I didn't take much large stuff with me when I moved to Philly, most of our other furniture is from Jinxed.
Megan is computer science major, lover of the Middle Ages, and vintage slinger at JINXED. Tommy loves wrestling, music, and works in the film industry. In their spare time, they both like to explore and go on adventures with their dog, Stella.
Follow Megan and Tommy on Instagram: @meganacosta & @tommymanson