Q: A woman's bedroom is a very personal place. How would you describe yours?
Tracy: I'd say the overall theme in my bedroom is cozy Mexican Cave. I like the use of vibrant color and romantic imagery in Mexican culture that manages to be bold yet not overly feminine. When I shop for home, I'm instantly drawn to things that are unique and I like the challenge of making it fit into my space instead of shopping with the theme in mind. My space is also filled with small trinkets and photographs from family and friends. I'm constantly inspired by the people in my life and I like to think my personal style is embedded with little pieces of each of them.
Q: Your bedroom is half underground, what issues have you had to work around?
Tracy: I had a few issues with the space that I had to work around; mainly the carpeting and also a strange cement wall that made the room look even more sterile when it was empty. Still, I think I'm managing to fill it with items that make it feel warm with a little creativity and strategic decorating.
Q: Which part of your room are you most fond of?
Tracy: My favorite part of the room is the accessories counter within a built-in bookcase. I've had an affinity for costume jewelry my whole life and when trying to figure out what to do with the bookcase, I took the opportunity to put some of my collection on display.
Q: Did anyone inspire your knack for decorating? If so, who?
Tracy: I think I was inspired by you, Alessandra! I always liked gawking at beautiful spaces but always assumed it had to cost a fortune to make my own space that beautiful. As we became friends, I spent more and more time in homeware sections of my favorite stores when we went shopping. Now, I think I look forward to hunting for home more than clothing shopping.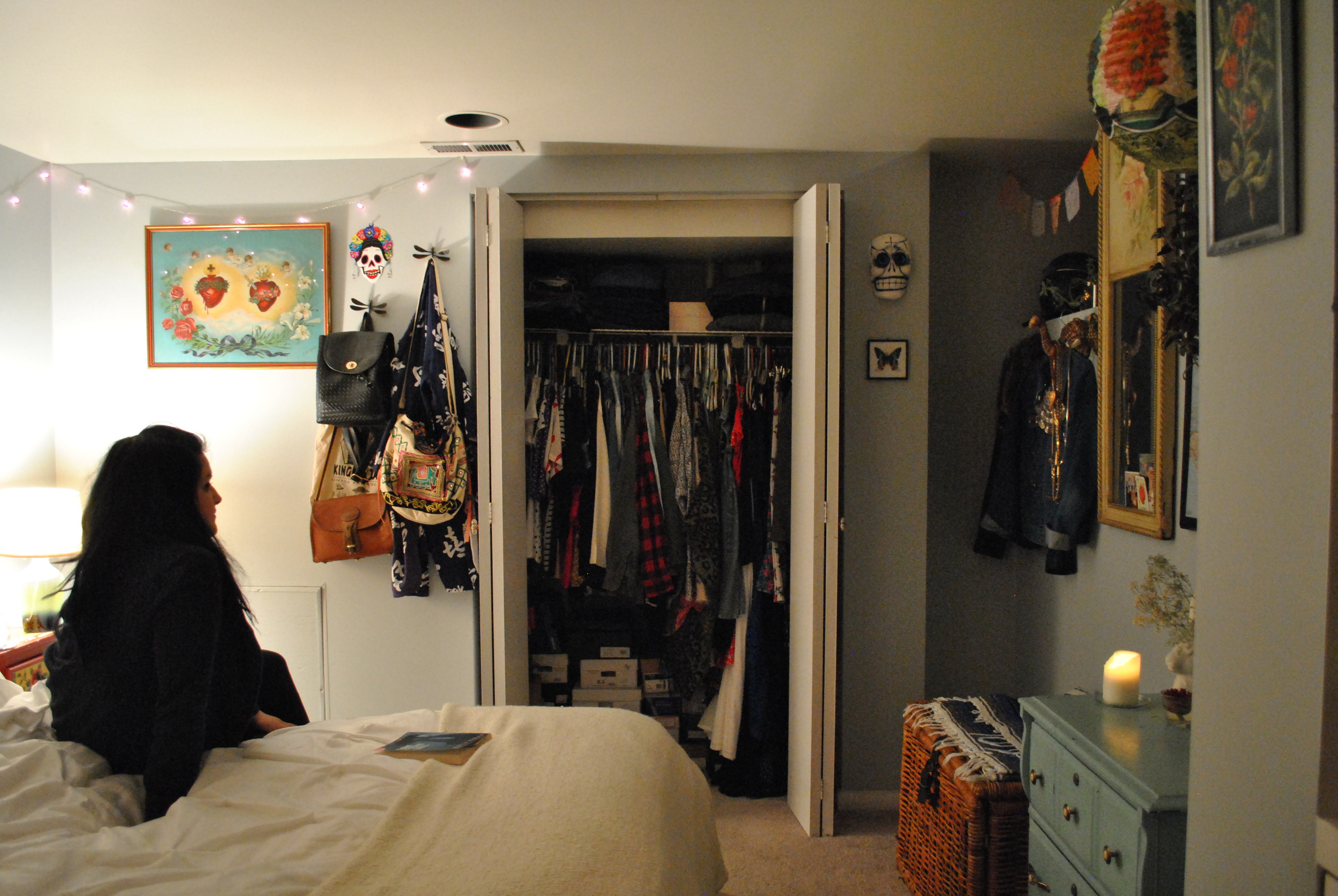 Q: If you could build your dream home tomorrow, what is the one thing it would undeniably include?
Tracy: It would have to have a porch with a tiled floor and a hammock surrounded by lots of greenery! My favorite part of visiting family in Puerto Rico was laying on my godmother's hammock on her porch, right under a Quenepa tree. If I could just get a Quenepa tree to grow in Philadelphia, it would be a dream home for sure.
What's what: Anthro-inspired duvet and sheet sets from Target. Ivory throw, elephant hook and rabbit vase from Anthropologie. String of butterflies, Frida painting and bird shelf from Eyes Gallery. Desk, chair, wicker baskets and trunk from IKEA. Red rose night table from a thrift-shop on Mt. Carmel Ave in Glenside PA. Rose mirror and framed corazon print from JINXED.
Tracy is a Philadelphia resident who was born in Puerto Rico but raised by her Mexican mother. She currently works for Project Home, an organization that seeks to break the cycle of homelessness and poverty in Philadelphia.
Follow Tracy on Instagram @cunting_season